Is LIVE TEXT in iOS 15 the feature you've been waiting for?
Posted by Andrea Ting-Luz on 2021 Nov 18th
There are no shortage of useful features in the latest iteration of Apple's iOS for iPhones, some of which correlate with Monterey OS for your Macbooks and iMacs. And while we might suggest giving Monterey a chance to breathe until the new year, installing iOS 15 on your iPhone will give you an opportunity to explore some of the most prominent upgrades to make your life simpler and more intuitive.
One feature we are fascinated with is Live Text, available only for your iDevices. Enable this feature by opening up your Settings, selecting "Language & Region", and toggling Live Text on: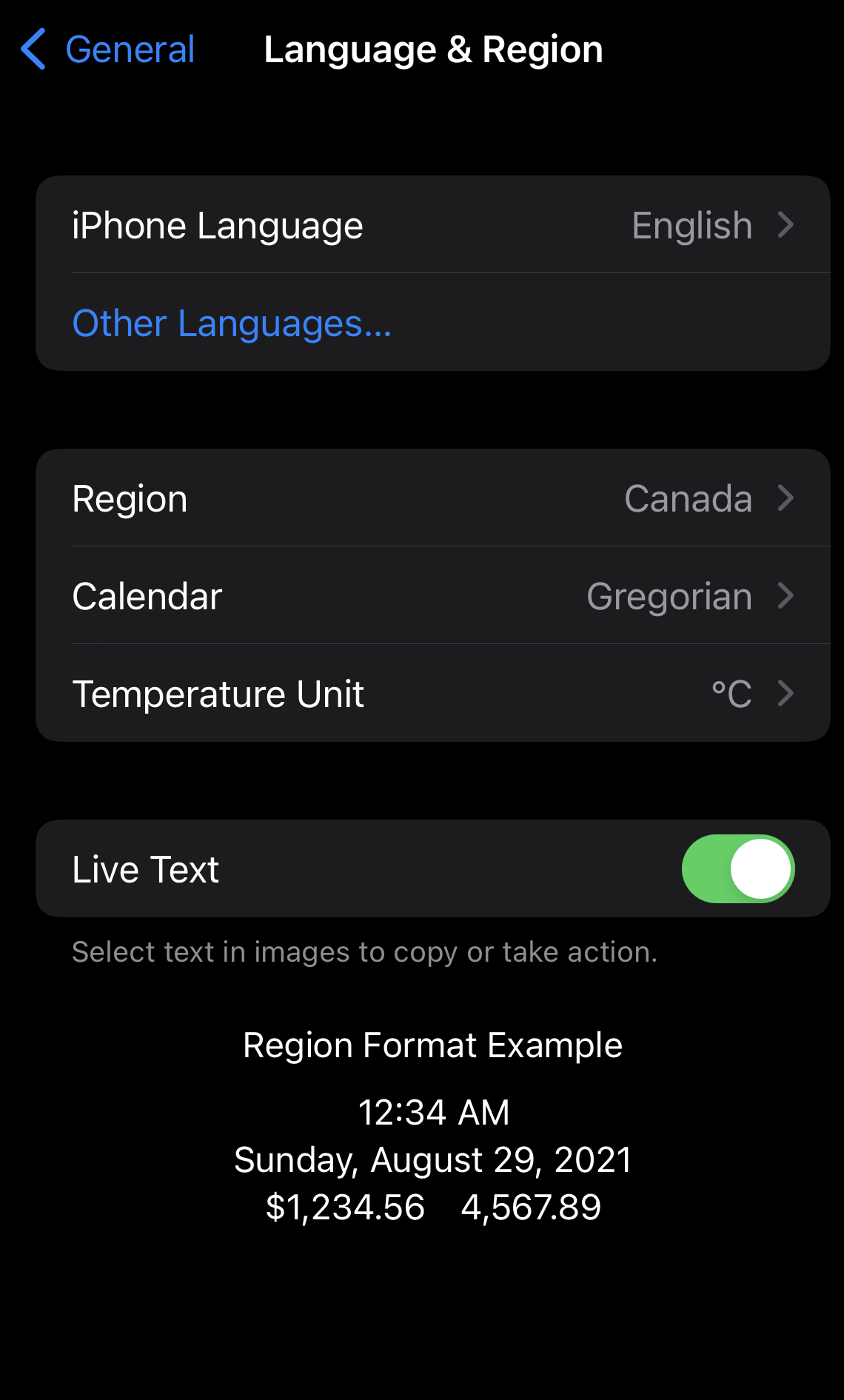 ---
HOW DO YOU ACCESS THE LIVE TEXT FEATURE?
Once you view a photo, your device will detect if there is text to be read in the image. The Live Text icon will be visible in the bottom right corner of your photo: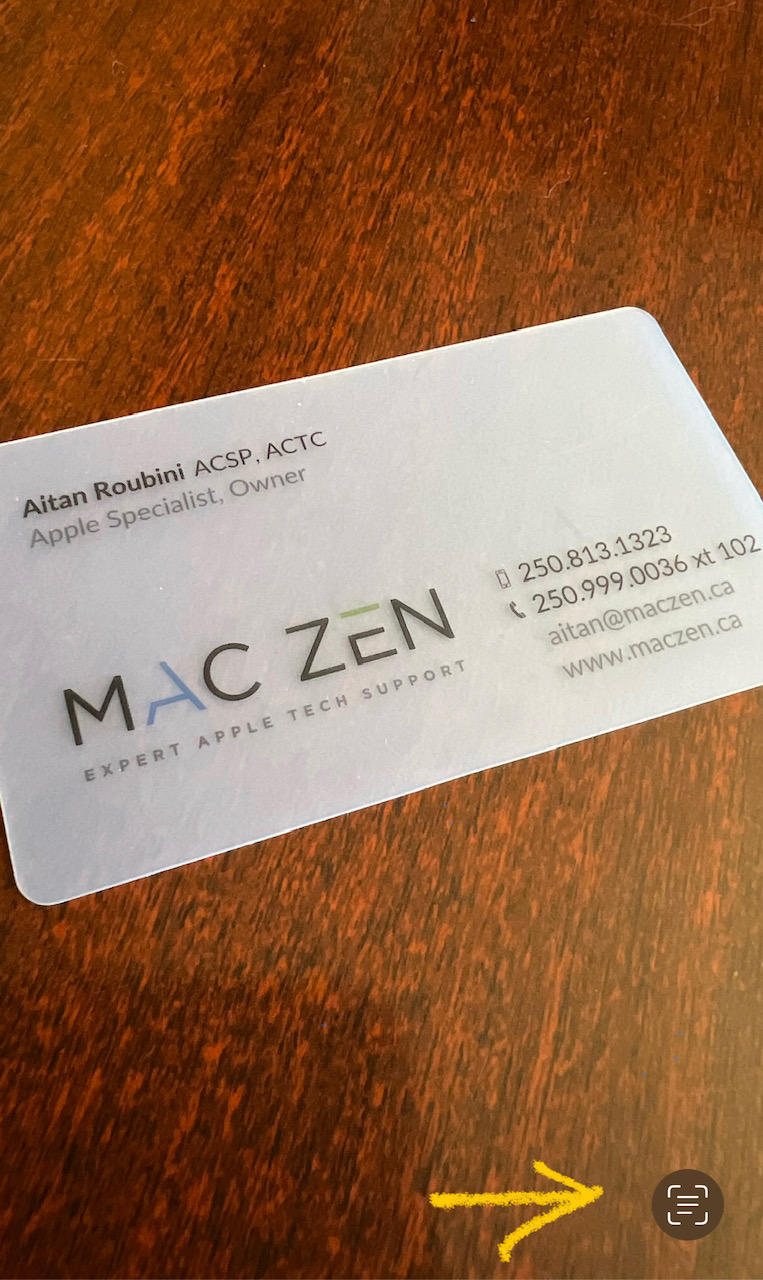 ---
Using the most innovative machine learning technology, Live Text uses your camera to "read" text and images, and enables you to take any of these direct actions from the scan:
MAKE A CALL
Want to call that real estate agent who passed you her business card at a networking function? Simply snap a pic of the card, tap the Live Text icon, select on the phone number text, and let your iPhone place the call.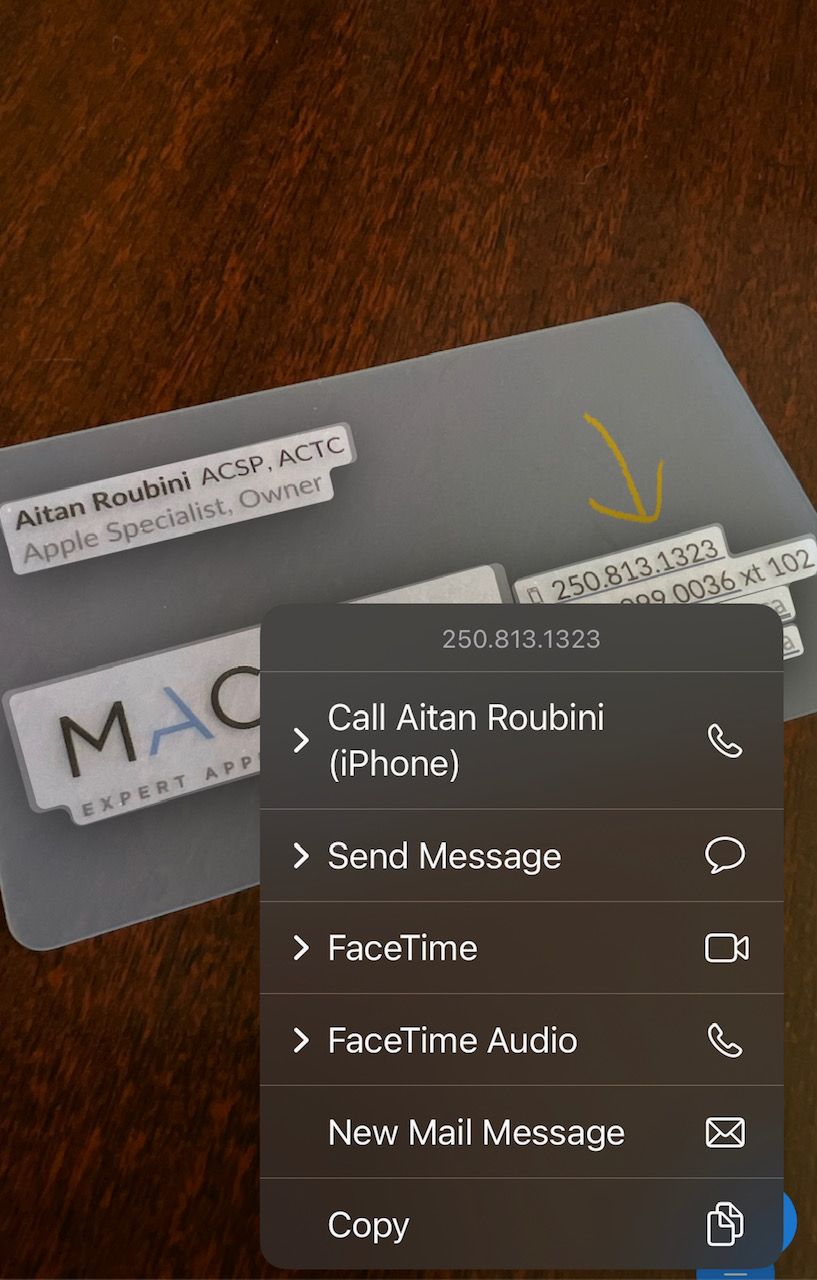 ---
OPEN A WEBSITE
Catch a glimpse of an event that looks interesting on the bulletin board of your favourite coffee shop? Snap a pic of the poster, tap the Live Text icon, select the URL text, and let your iPhone open your browser and take you directly to the event's website.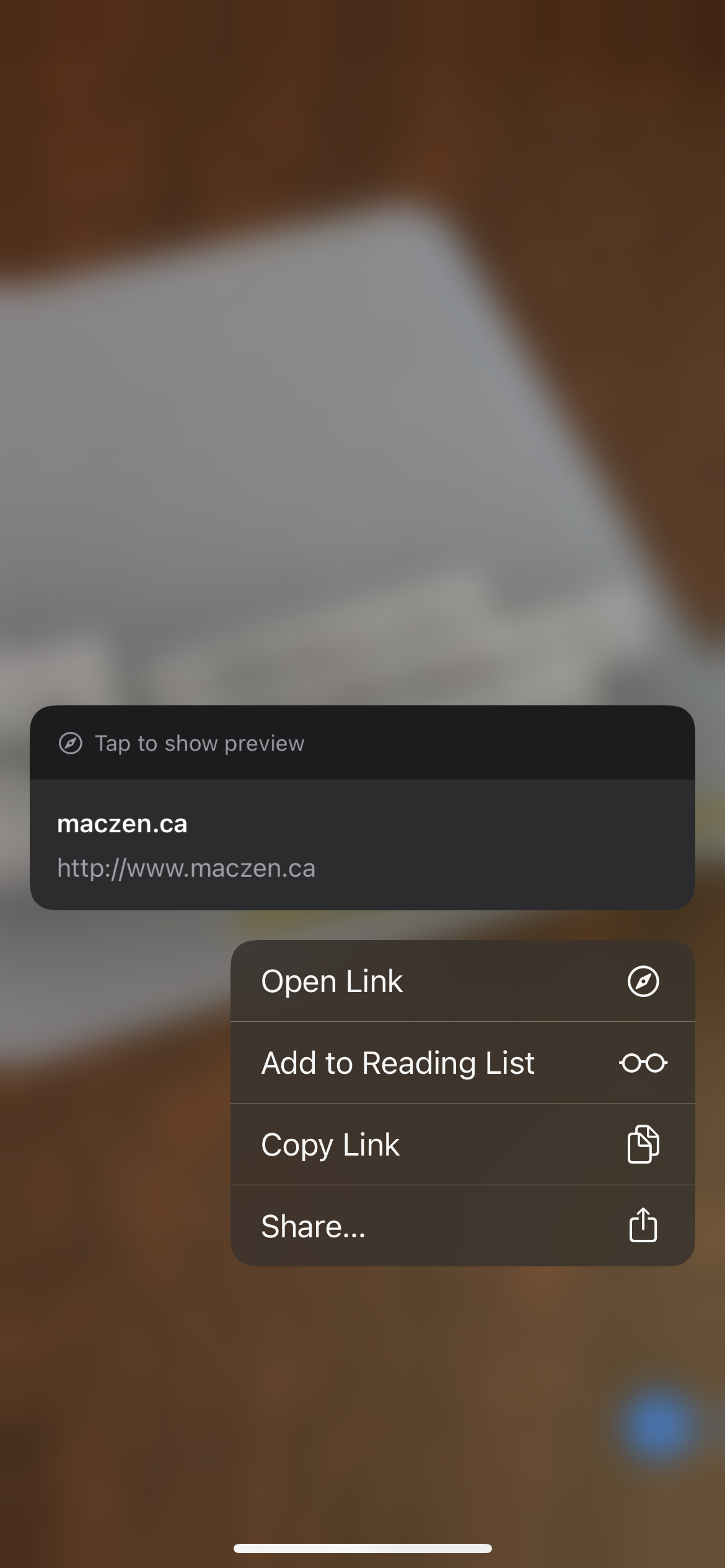 ---
TRANSLATE
Pick up a jar of a mysterious sauce in the Asian aisle of your grocery store and want to know what's in it? Snap a pic of the ingredients list, tap the Live Text icon, select the ingredients you want to know more about, and let your device translate into your primary language.
NOTE: Translation is currently available for English, Chinese (both simplified and traditional), French, Italian, German, Spanish, and Portuguese
---
DIGITIZE HAND-WRITTEN TEXT
Want to archive your grandmother's to-die-for chocolate chip cookies from the original recipe card? Snap a pic of the recipe card, tap the Live Text icon, select and copy the text, and save into your Notes or other recipe app.
NOTE: this is note quite foolproof yet - you may need to edit your text file depending on how shaky Grandma's handwriting was.
---
LEARN MORE FROM TEXT
Reading a paperback and you come across a word or phrase you'd like to learn more about? Snap a pic of the page, tap the Live Text icon, select on the word or phrase, tap on "look up" and have your iPad search for more information, definitions, etc. to quell your curiosity.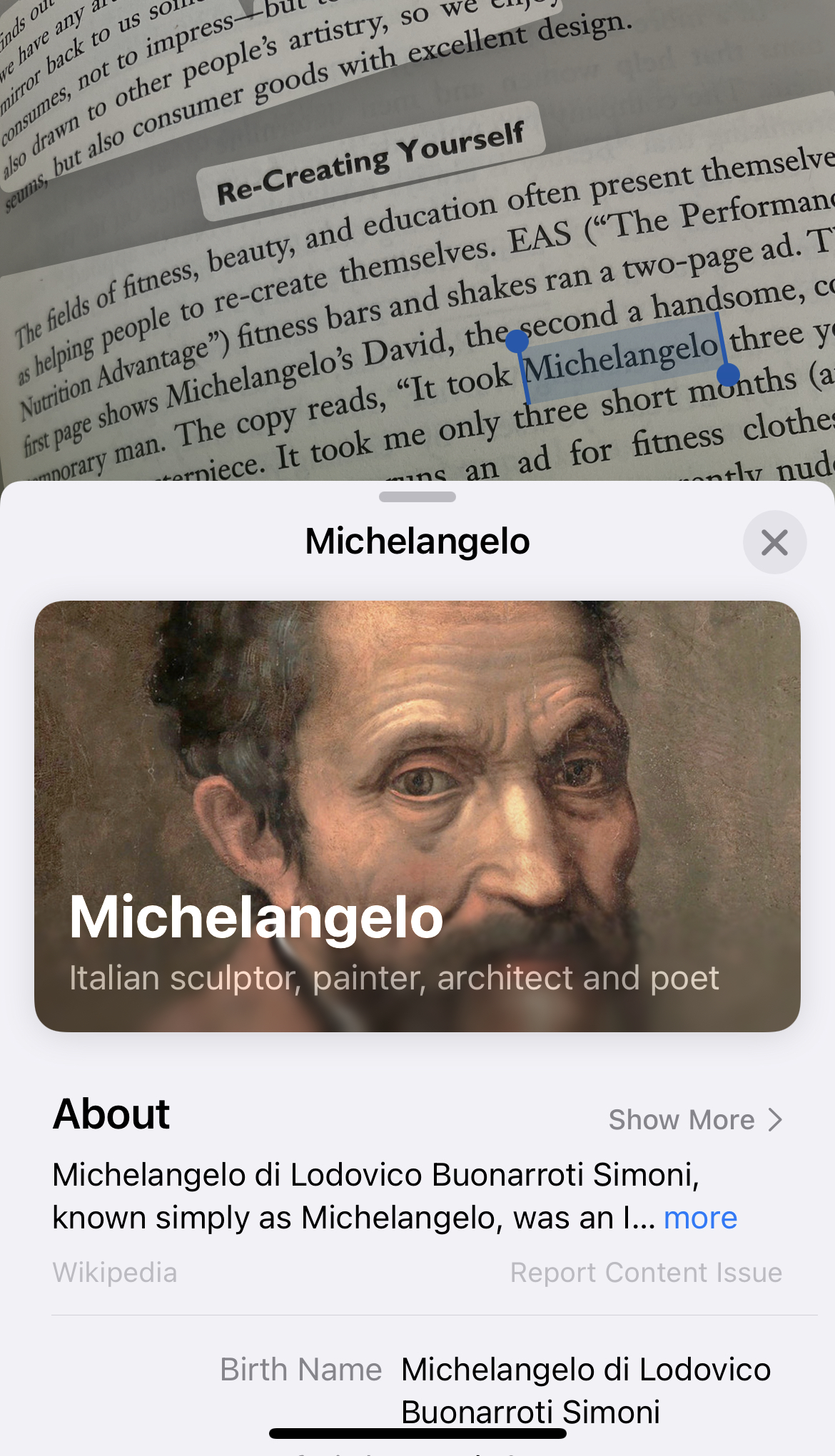 ---
LEARN MORE FROM IMAGES
Visual Look Up is perhaps the one of the most handy features. Wandering through a garden, and come across a plant you don't recognize that would make a lovely addition to your own garden? Snap a pic of the plant, tap the Live Text icon, select the portion of the image you want to know more about, and let your iDevice do the identifying for you.
---
While this technology is not available globally yet, Apple is most certainly working towards widespread usage. Live Text is currently available in these languages and regions.
We look forward to sharing our insights into the newest features of your Apple products in this segment we call AT THE CORE. Call on us if you need our help with specific tasks or apps that have been vexing you. Our 45-minute Tutoring Sessions, conducted remotely via TeamViewer may just be the illumination you need to make your devices work more efficiently for you.