Managing eDocuments.
Posted by Aitan on 2018 Jan 31st
Stop paper at the source. How to manage PDF or digital only statements, bills and invoices.
If you're joining us for the first time, I've included a list at the end of links to other articles in this series on the seemingly challenging task of going paperless at home and in the office. Over the last few months, we've looked at a few hardware and software solutions, along with how all of it can be brought together with cloud storage.
Now that we know how to capture and store our PDF scans, I'd like to address how to reduce paper output at the source and take advantage of an increasing corporate awareness toward paper reduction.
While the references I'm pulling from are to do with the service providers that I use, pretty much everything can be translated to the vast number of service providers out there. If you find that your service provider or bank doesn't give you the option to go paperless, call their customer service line, and tell them that you cannot find the paperless billing option. If they don't, express your interest, and your opinion will hopefully go a long way to helping them make the decision to support this effort.
BC Hydro is an excellent place to start for anybody, and a good example of a company that's doing it's part to reduce the environmental impact of its paper billing. The process of signing up for paperless billing is fairly standard, and is facilitated by asking yourself or the provider themselves the following questions:
Am I registered to use an online billing portal?
Where is my account profile on the billing portal?
Where is the billing section on the portal?
Where are the options to turn on paperless billing?
How will I be notified?
How do I download my statements or invoices?
How long after will I be able to access my statements or invoices?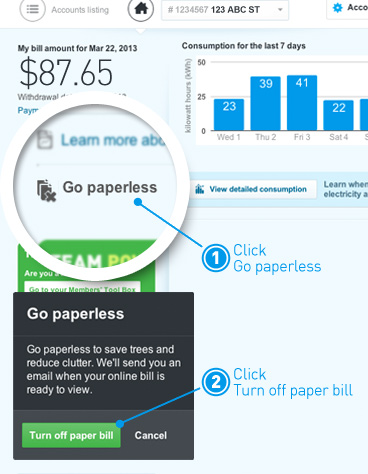 I find that once you have access to the online billing portal, most companies are quite easy to navigate. But if you can't, look specifically for the billing section, in there somewhere will be an option for how you would like to receive your statements and invoices. As before, if you get stuck, call their customer service line and ask for help.
Downloading your Statements and Invoices — Getting Registered is one thing. Now we have to get retrieve our bills.
Do you want to download and archive your statements, or do you only want to retrieve them for the purpose of reviewing, and then just discard them?
If you're the kind of person who doesn't care or need to keep their bills and statements, you'll find that in most cases, the service providers will allow you to retrieve your statements and invoices indefinitely. Please check with them if this is important to you, as there may be some exceptions.
Either way, the first step is downloading the statements. The standard file format for all statements is going to be PDF. Firefox and Chrome always download directly to your preferred folder, the default being "Downloads" in your Home folder accessible through the finder: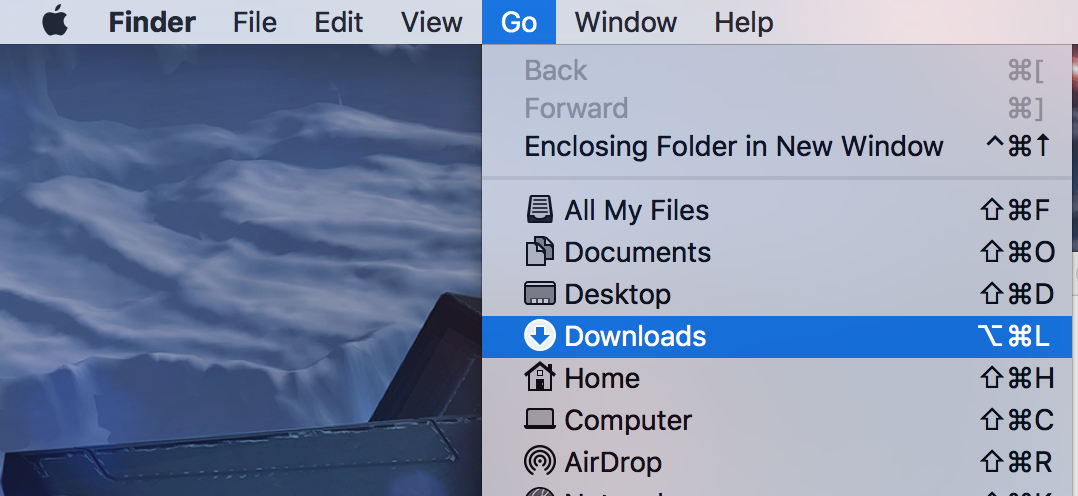 Safari however, provides the added benefit of displaying the PDF inline in a webpage windows. The trick to downloading the PDF to your computer though is hovering your cursor toward the bottom of the safari window containing the PDF, and you'll see an overlay with a download symbol: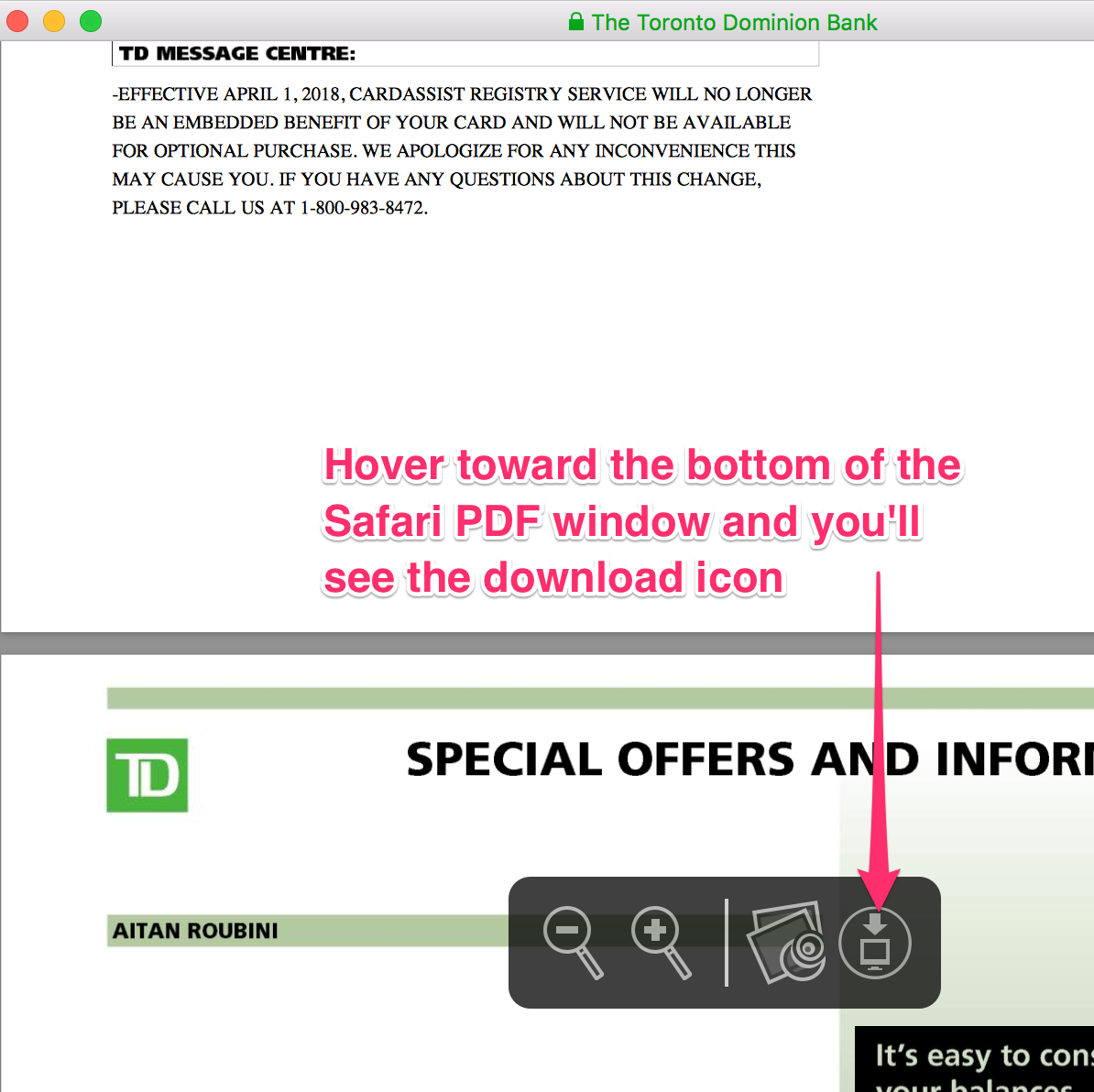 Storing Your PDF Statements and Invoices in a Practical Location
Now that you've downloaded your invoices and statements, it's time to have a look at how you're storing your files. If you've read last month's article on Cloud storage, you'll remember that we covered the practice of creating folders as we save files. It starts with having a folder on your computer, and using the Finder's menus, choose File -> New Folder to create a structure of folders. I like to use the List view (Finder -> View -> as List), and drag the folders I create into other folders to create nested groups (see below).
Once I do that, I like to put two windows side by side, so that my Downloads folder is on the left, and the destination folder on the right. This way I can click and drag on a file from the downloads folder and drag it directly to my folder where I want to store the statements and invoices. Have a look at the graphic below, to see what I'm suggesting.

In Conclusion
So that's it really. If you can successfully register for electronic billing, and download the PDFs to your computer, you have the opportunity to practice storing and filing your PDF bills easily and on a regular basis. Thanks for taking the time to read, and we'll see you in the next edition.
One last tip: make sure you sign up for notifications when your bill is ready. It's a great way to remind yourself to download them on a regular basis.
Past Articles in this Series
Going Paperless — Saying Goodbye to an Old Friend, and Embracing the New
Scanner Pro by Readdle—One Step Closer to Paperless
Fujitsu ScanSnap ix500
Multi-function Ink Jet Printers
Why the Cloud will Change the Way you Look at Document Storage