APP-lifying your Health | Aitan's Story
Posted by Andrea Ting-Luz on 2022 Jun 1st
On the last day of February earlier this year, Aitan made a decision to put himself - specifically his health - at the top of his priority list.
He had come to the realization that he weighed the most he ever had in his 47 years. He also could not deny the alarming results of his blood pressure test - 165/115. His doctor (*whom he connected to via Telus Health My Care) gave him a choice to bring this number down: by choosing prescription medication or by changing his daily habits.
He chose the latter.
---
But first, Aitan chose to reckon with the factors that had resulted in his compromised health. Since launching Mac Zen over 10 years ago, he hustled to establish the infrastructure and operations, gain, serve, and retain clients, scale the business as it grew, sought opportunities to position himself as an Apple IT expert, hired and trained a team to support his vision.
None of this is extraordinary to owners of start-up businesses. Consistent with the assertion in Michael E. Gerber's insightful book, The E-Myth, entrepreneurs like Aitan, because their expertise is the foundation of the business, often spend the majority of time working "in" their business. Working "on" the business, if there is any gas left in the tank, takes place beyond the 9 to 5 - early mornings. late at night, weekends, and all the moments in between.
This hectic pace left little time for Aitan to prioritize his self-care. He resorted often to grabbing food on the run, pushing movement to the bottom of the to-do list, and sleep even further down. Combined with the stress of growing Mac Zen, the habits Aitan had developed culminated in an extra 20'ish lbs and skyrocketing blood pressure.
---
Given his area of expertise, it is not surprising that Aitan turned to tech tools to address the problems at hand. He clearly delineated his goals - to bring himself back to his optimum weight and to reduce his blood pressure to normal. He mindfully and diligently maintained a daily discipline of tracking his energy intake and output. And he employed the following resources to monitor his progress: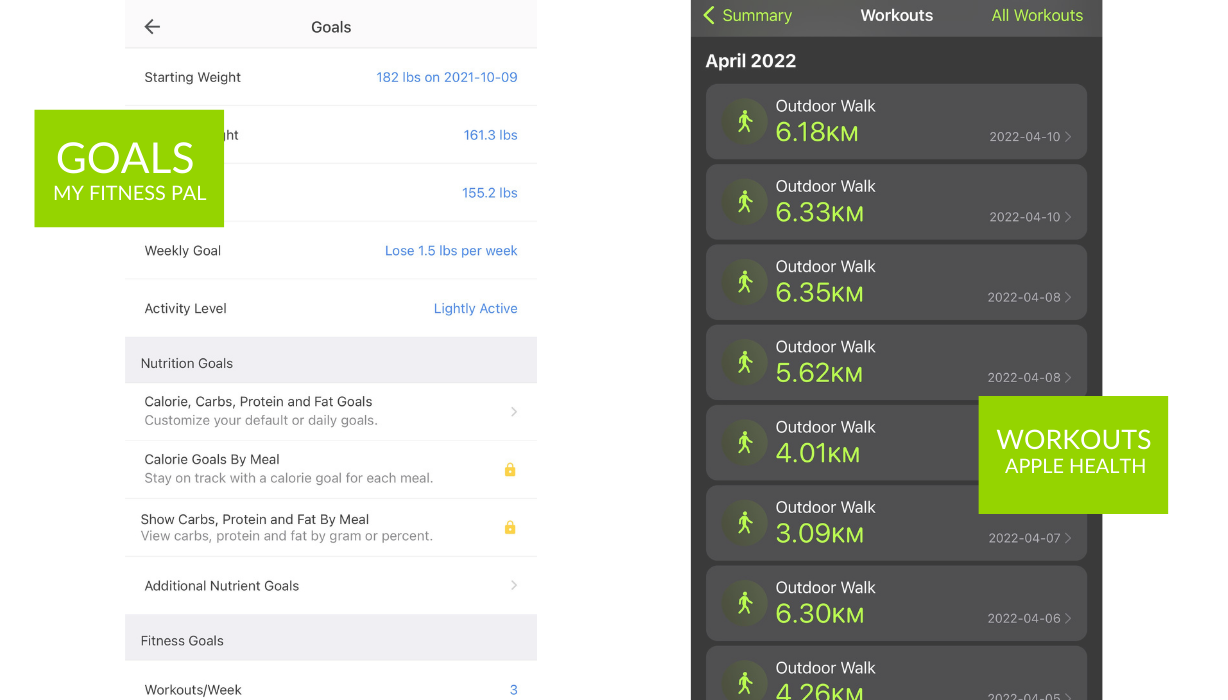 Aitan chose OMRON because it is Bluetooth enabled, and he could review his results via the accompanying app on his iPhone. He came to understand the relationship between decreasing sodium levels and increasing potassium levels to have a positive impact on his blood pressure.
Installing this app from the Apple Store has enabled Aitan to establish his goals, monitor his calorie intake, and track his progress. The app also offers a meal planning function, healthful recipes, a daily food and exercise log, and workout plans. A indispensable feature he uses regularly is the barcode scanner, which instantly pulls up the nutritional data of virtually any food product with a barcode - calories, sugar, sodium, fat, potassium, etc. This feature has been instrumental in helping Aitan to make mindful eating choices.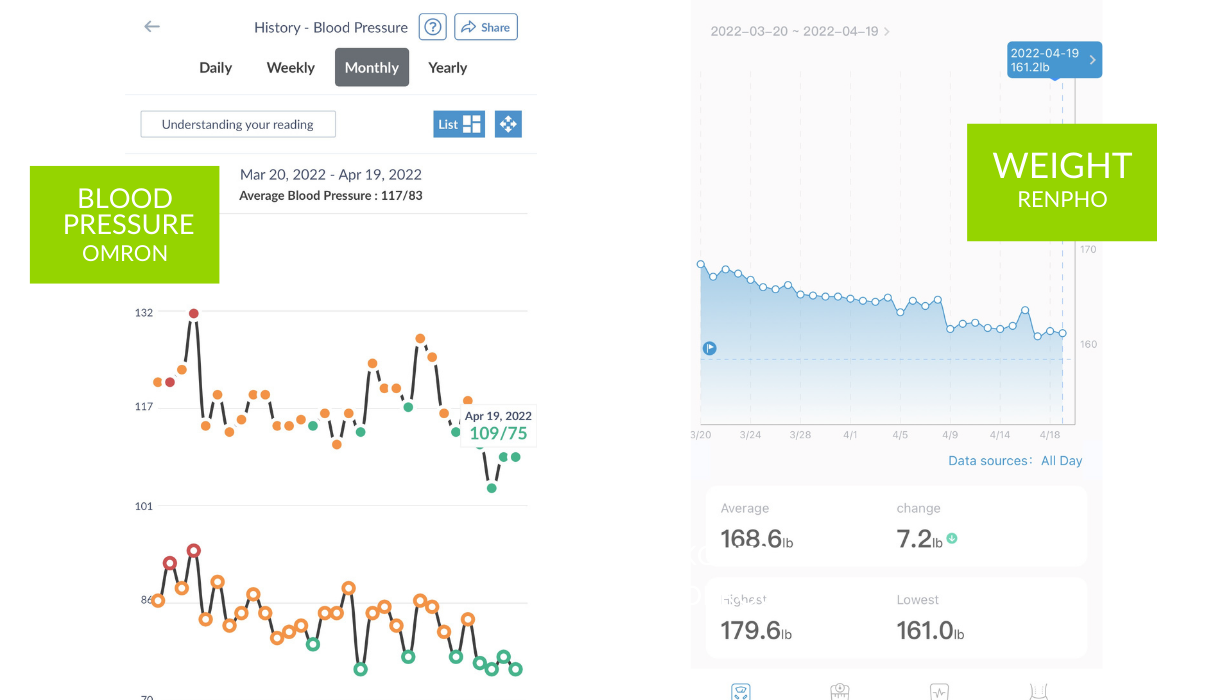 Aitan also invested in this smart scale, which measures body weight, BMI, body fat %, water %, skeletal muscle, fat-free body weight, muscle mass, bone mass, protein, BMR, subcutaneous fat, visceral fat, and metabolic age. All data is transmitted via Bluetooth to an accompanying app.
And no surprise, all the data Aitan gathered from the above apps is amalgamated automatically into this robust app available on all Apple devices. His iWatch tracks his steps, fitness workouts, and meditations. He accesses a bird's eye view of all aspects of his personal mission from this ingenious Apple feature.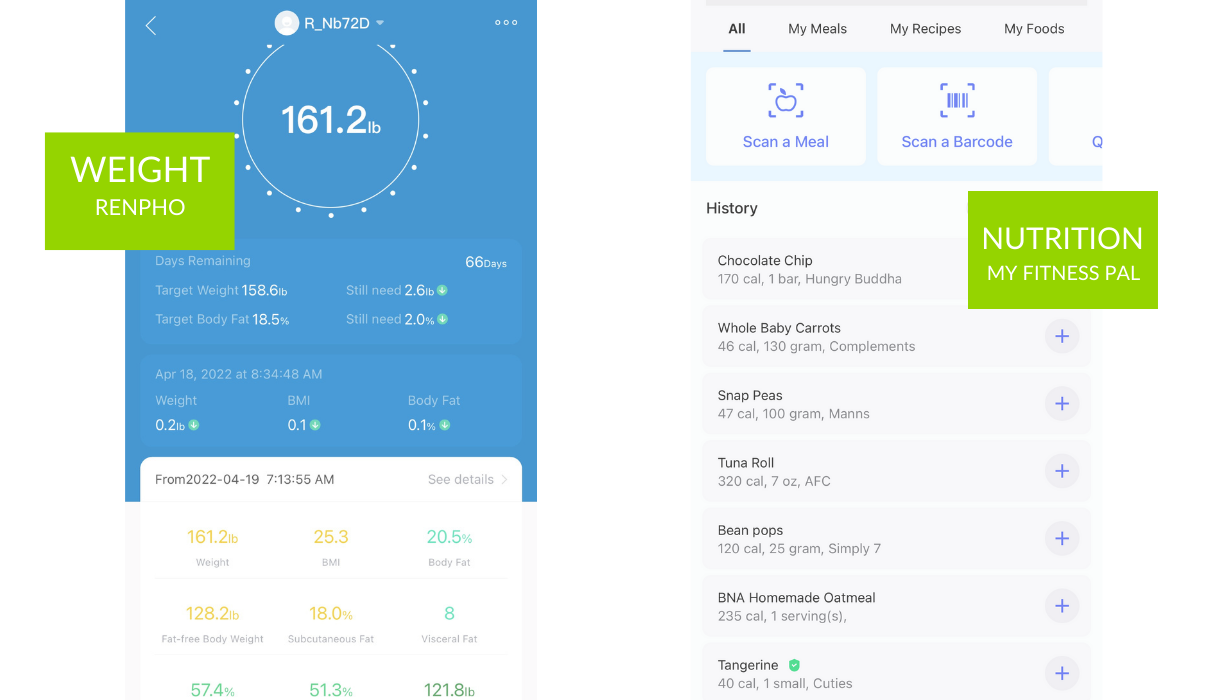 ---
At the end of February, Aitan had made a decision to put himself first. He had come to the realization that the only thing he actually had any real control over was his health. He realized his efforts to drive his business forward were being hindered by the neglect of his well-being.
In three months, Aitan is proud to have achieved what he set out to do. He has shed 20lbs, and his blood pressure is back to normal. His day begins now with an hour walk before attending the needs of the business. He has made sleep a priority. He is choosing to make time for himself and his family, for play, for movement, for meditation. He is in the midst of renewing his martial arts practice - for himself, his sons, and his students. All of this has resulted in a boost of sustainable daily energy that enables him to tackle his work even more productively.
In the next installment of this blog series, we will share Aitan's positive experience with Telus Health My Care. If you are frustrated by the inability to access a family physician, this e-health service may be exactly the stop-gap you need right now.